Here are links to the places I frequent (in no particular order). I included banner image links to the sites where I was able to figure out how to do it, for the rest it I linked through a picture from the site, it is simply a matter of my lack of knowledge and not an intended disrespect. For the record, no one listed has ever asked to be linked from here, these are simply my recommendations:
KICKSTART KIDS does a lot of good teaching martial arts to at-risk youth. Rather than an after school class (which is a part of the program), KSK is a part of the student's daily class schedule as a PE Credit Elective. Each instructor teaches 100-200 students per day. The program is a martial arts class and includes a values curriculum. We work with a lot of students who truly need what is found in the martial arts, but often cannot get the training any other way.
Iain Abernethy maintains the highest quality forum I have visited. I do not post often, but there is a lot to learn there, and trolls are not fed so they just go away. In addition to the forum, his website contains articles, free podcasts, a ton of video links, as some products for sale that are well worth the money. I highly recommend this site.
The Conflict Communications website contains real information on what happens inside the brain during conflict. I have read and re-read the articles here as they apply to so many areas of life. MacYoung and Miller have real world experience and that is what separates their information from a lot of the "self-defense" info to be found online. I recommend reading, taking notes and reading again. Each time that I return to an article here, I pick up something new.

No Nonsense Self Defense is the work of Marc and Dianna MacYoung. This website contains an unknown number of hubs and the fact is you can get lost for days reading and learning. So many topics are covered, from so many different angles and all tied in to the main subject of real self-protection.
Wim Demeere writes one of the best self-defense blogs available. I look forward to his frequent, high quality articles. He is another person who really knows his subject and freely shares a ton of great information. The tag line of the site is "Martial Arts, self-defense, and a whole lot more", and that describes the site perfectly.
Michelle Fighting Back is a highly inspirational site. Michelle shares her story of being raped at knife-point, and how she survived and uses her experience to help people. She gives motivational talks that include a great variety of topics.
The Karate for Life Foundation is another non-profit that uses the martial arts to help equip people with the tool needed to make better choices in life. Not to mention producing the imitated but never duplicated "Ask Me About My Bruises" t-shirts. A great foundation, run by great people doing great work!
http://chirontraining.com and http://chirontraining.blogspot.com/ are from Rory Miller. He has a lot of knowledge, experience, and unlike many experts, his writing style is readable! Incredible insight from someone who has actually been there.
Alain Burrese is another expert who is still down to earth, no mysticism, no ego, just high quality information shared in a very clear manner. There is a lot to learn from him, and he even offers a free situational awareness guide!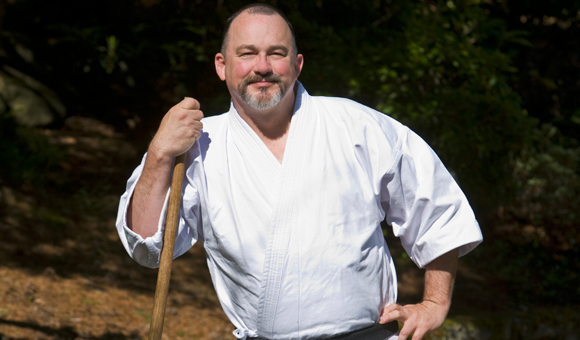 Kris Wilder is a truly good person. He also happens to have the know-how and ability to take a person apart, so thank goodness he is a nice guy! His website contains free articles, downloadable PDF book chapters and a lot more! His books are all on my recommended reading list, and he constantly offers more free items on his site!
Martial Secrets is a site where you will find podcasts from Lawrence Kane and Kris Wilder. I look forward to every podcast, and they not only have great topics, they get awesome guests. Bookmark this one.
Stuart Williams offers fantastic podcasts covering a broad range of subjects and very entertaining and interesting guests. Highly recommended!
If you are not visiting these sites, you should. I don't like to waste my time, and internet time can easily turn into wasted time. There is a lot to learn online, and one need not spend their time looking at pictures of cats that want cheeseburgers or starting arguments with strangers. Learn. There is a ton of useful information on the websites listed above.